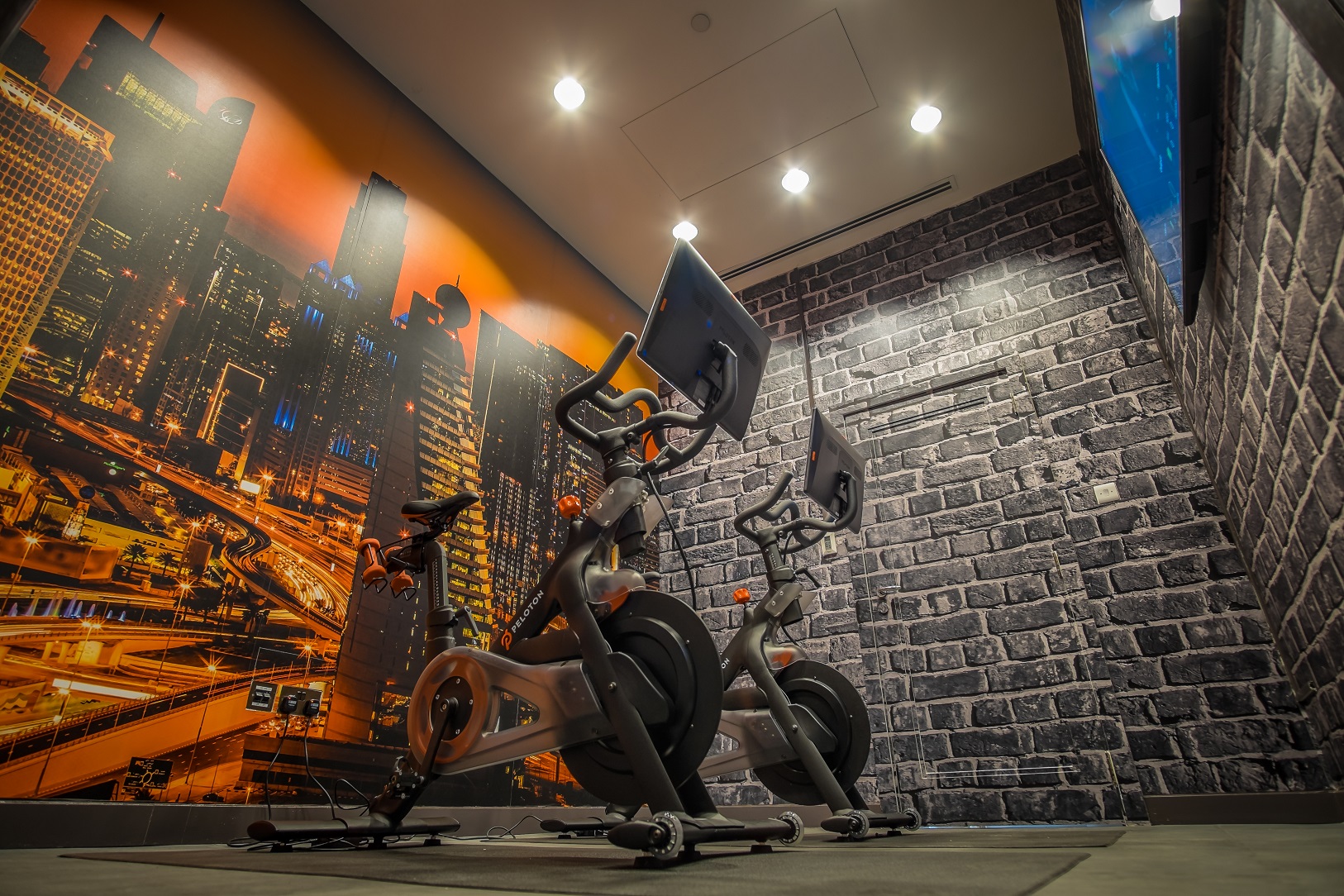 Work out virtually to beat the summer heat
Too hot to ride outside, but don't want to slack off on your training routine? Take your workout indoors! For those  who are creatures of the outdoors this may sound like a punishment…But lets face it, with temperatures that can soar to 45+ degrees, it can  be smarter to adopt a more reasonable approach that will pay later on, than trying to beat nature. Luckily, Dubai sorted us out with a unique virtual cycling workout, courtesy of Les Mills, that makes sweating indoors more bearable. And, the cool thing is that it takes place in a pretty swanky location that has lots more perks on offer: the H Dubai.
Peloton Cycling indoor workout
The Peloton studio contains some of the world's most interactive bicycle equipment. A big plus is that it's limited to 2 people. So if you're not a big fan of the "oomph oomph" group classes, this one's for you! So what's the fuss all about? This setup allows you to measure the effectiveness of your ride using defined resistance and specific cadence. A virtual instructor pushes you with guidance, energising music DJ and a variety of themed workouts. You can also compete with riders from all over the world as you climb your way to the top of the leader board.
We gave the studio a try and truth be told we loved it! Our only gripe is that the choice of cycling shoes was super limited. So, if you're going to make Peloton Cycling a regular part of your routine, we recommend bringing your own gear. We also give thumbs up to the fact that you don't have to be a member of the gym or a guest at the hotel to drop in (we even came across a lady who uses the facilities although she lives in Motor City!). And, the prices are as low as Dhs30 (for 30 minutes) for non members, with packages available as well – you can't beat that!
Les Mills virtual classes
In addition to the innovative interactive cycling class, Les Mills also offers a slew of other options that you would usually find at the gym, including Body Pump, Sh'Bam, Body Attack… We gave Body Pump a go, and we had a good time. Again, one of the pros for us, is that you're on your own  with virtual instructors for company. We like how that tests our mental resolve to push ourselves although no one's watching. The class was super effective and we felt it the next day: sore in just the right places. Plus, because only four minutes are dedicated to each part of the body (think shoulders, abs, back) with a digital clock to keep track, the hour went fast and we were decidedly entertained!.
Healthy pursuits
In addition to virtual workouts, H Hotel boasts a fully equipped gym with all the trimmings you'd expect from a 5-star hotel. But what we really enjoyed was the all around healthy experience the hotel provides. You'd be mistaken to think that the H Hotel caters solely to a business clientele (its location next to DIFC does make it attractive to the business crowd) it also offers way more to those who are simply interested in leading a healthier lifestyle. If you check out their breakfast offering you'll be surprised to see how much variety – of the healthy kind – is on offer; and, it's all homemade and organic! We particularly liked the detox shots, quinoa bagel with eggs and avo; and, for a pinch of decadence (which we are very proud of!), the matcha crepes are absolutely not to be missed.
We hope this glimpse into these innovative, and affordable, quality workout options motivates you to keep pushing during summer . Or at least give you an option to switch up your routine (which your body and brain always appreciate!). As always, we are listening… Any feedback, comments or requests are always more than welcome. Breathe. Move. Feel.